Recipes, flavors and tastes in Emilia Romagna
Cookbook
Typical products and recipes from Emilia .. Browse the food and wine!
Bread and buns

Dumpling with onion
Cookbook
A delicious substitute for bread, even a different way to make snack! It 'a dish cooked typically in winter months and is great baked in a wood oven.
Difficulty: Medium - Serves 4.
Ingredients:
500 g flour
1 cube of fresh yeast,
a pinch of salt,
milk as needed,
100 g of pork fat coarsely ground,
1 large yellow onion.
Preparation: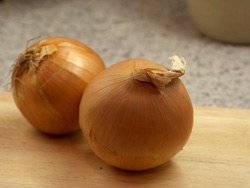 First melt the yeast in half a glass of warm milk, then add it to flour and mix with the help of another hot milk as the dough takes shape, add the pork fat and salt. Once you reach the right consistency is necessary to work on a pastry for about 10 minutes. Then add the chopped onion continuing to work the dough, then cover with a cloth and let rise until not double the volume. A rising completed, stretch dough into a round baking pan, previously greased and bake in the oven, if possible hearth, for about 40 minutes at 170 degrees.
Note: E 'Gasso can replace the pork with the fat of the previously chopped ham and pesto.

Suggested wine: Pignoletto Colli Bolognese

Consult the other recipes for "Bread and cakes"
Appetizers

Crostini with pate bruscandoli
Cookbook
Definition: Busch is the seed of a plant of wild hops.
Difficulty: Easy - Serves 4.
Ingredients:
200 g of peaks sharply
120 g of tuna
1 tablespoon capers,
1 hard boiled egg,
10 pitted olives,
bread slice.
Preparation: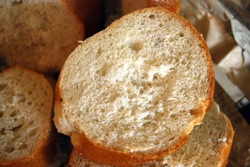 Put a pot on the stove with plenty of water, reached the boiling point, dip the tops busca. Once boiled frullatele with the addition of tuna, capers, olives and hard boiled egg for a slightly thick cream. Following cut the bread into slices not very high, spalmatevi cream and embellished the dish with a hint of bruscandoli boiled.

Suggested Wine: Chardonnay Colli di Parma

Consult the other recipes of the "Starters"
Pastas

"Curzul with shallot sauce
Cookbook
Difficulty: Medium - Serves 4.
Ingredients:

For the pastry:

For the sauce:
800 g shallots,
800 g peeled.
Preparation: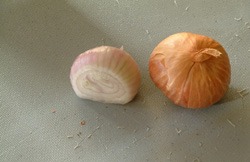 Make the pastry by mixing the eggs with the flour, obtained the compound did not roll out the dough very thin. A sheet obtained by forming of thick noodles, in Emilia Romagna called "curzul. Finely chopped shallots and let it brown a little extra virgin olive oil. Add the tomatoes and finish cooking. Having boiled the "curzul" toss with the tomato sauce and garnish with basil leaves and parmesan grated.

Recommended wine: Trebbiano di Romagna Doc

Consult the recipes of "Pastas"!
Emiliani seconds

Pudding with roasted shallot sauce
Cookbook

Difficulty: Easy
Ingredients:
400 g shallots di Romagna,
extra virgin olive oil,
50 grams of white vinegar,
50 grams of dry white wine
2 bay leaves,
5-6 grains of pepper,
1 kg of pork roast by default Romagna
carrot
celery
for fried shallots,
salt.
Preparation:
Clean scallions and sliced very thin, let it brown in a drop of olive oil and add the white vinegar, wine, bay leaves and peppercorns, then add salt. Continue cooking over low heat, possibly adding a few tablespoons of cold water until the complete evaporation of the liquid part. At the same time you do this fried carrot, celery and shallots, then you ask already seasoned the roast with salt and pepper, cover with milk and cook for about an hour in a covered pot over medium heat. After the cooking time, increase the heat, remove the cover so as to absorb any excess milk. Let cool the roast, slice and cover it with the sauce. Finally serve with the shallot sauce after taking off the peppercorns and bay leaves.

Suggested Wine: Sangiovese di Romagna Superiore DOC.

Consult the recipes of "Seconds Emilia!
Vegetables and side dishes


Asparagus sauce
Cookbook
Difficulty: Easy - Serves 4
Ingredients:
750 gr. green asparagus,
juice of 1 lemon
3 hard boiled eggs,
40 gr. of extra virgin olive oil,
parsley chopped
salt and pepper.

Preparation: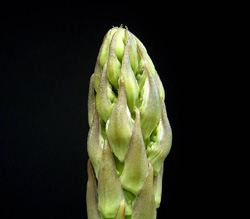 Wash and thoroughly clean the asparagus, tie in bunches and boil in salted water in a pot high and narrow, vertically with the tops up. When the points are tender, drain and Untie, arrange on a serving dish with the tips toward the center. Prepare a sauce by placing the yolks in a mixer, oil and lemon, then chopped parsley and pepper. Garnish the tip of the asparagus with the sauce.

Recommended wine: Sauvignon Colli Piacentini DOC.
Look for recipes for "Vegetables and side dishes!

Sweets Emilian


Cappellacci with peach jam and cocoa
Cookbook
Difficulty: Average
Ingredients:
500 g flour
200 g of sugar,
100 g of butter
2 eggs
white wine
salt
For the filling:
1 jar of peach jam,
30 g cocoa
30 g sultanas.
Preparation:

Preparation: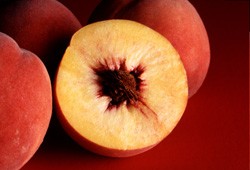 Mix flour and sugar on a pastry board, made a fountain in the center and place the eggs, soft butter, a pinch of salt. Use wine to mix everything. Roll out the dough and take a little square of medium size. The center of them ask yourself jam mixed with cocoa powder and sultanas, previously soaked in water and squeezed. Fold the square so as to form triangles, playing with his fingers to the edge to close them by forming a cap. Following fry in hot oil, dry them on two layers of paper towels and sprinkle with powdered sugar.


Suggested wine: sweet Albana di Romagna DOCG.
Consult the other recipes of 'Cakes Emilia!

Visit the recipes of the cities of art:
go to recipe!
The content of the page is automatically translated.
Rate: 0.0 | Comments (0) | Write Comment