Welcome to the Romagna Riviera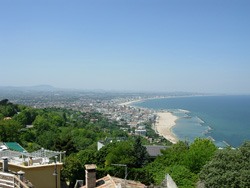 The Adriatic coast is the mouth of the River Rhine with Focara promontory which divides the town of Gabicce Mare Pesaro and crosses the province of Ravenna, Forlý-Cesena province and the province of Rimini, to finish top of province Pesaro-Urbino which includes the north-west. It is characterized by wide, sandy beaches, with the presence in the north of frequent natural areas (valleys and pine forests), while south has seen over the last 30-40 years, a progressive cementation due to tourism. Since the war forward the development of tourism in this area was indeed unstoppable.
The centers most famous and important of the Romagna Riviera from north are:
Ravenna (Casal Borsetti, Marina Romea, Porto Corsini, Marina di Ravenna, Punta Marina Terme, Lido Adriano, Lido di Dante, Lido di Classe, Lido di Savio);
Cervia (Milano Marittima, Pinarello, cut);
Cesenatico (Zadina, Valverde, Villamarina);
Gatteo Sea;
Savignano Mare;
San Mauro Mare;
Bellaria-Igea Marina;
Rimini (from Torre Pedrera to north to south Miramare);
Riccione;
Misano Adriatico (Misano Brazil and Portoverde);
Catholic
Gabicce Mare.
Life in Romagna coast was made famous by movies like Federico Fellini's Amarcord (born in Rimini) and the poetry of Giovanni Pascoli (born in San Mauro), Aldo Spallicci, Secondo Casadei, with its timeless music, one in all my Romagna and Tonino Guerra.
The content of the page is automatically translated.
Rate: 0.0 | Comments (0) | Write Comment