Carnival in Ravenna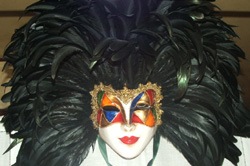 An annual event for young and old, the Carnival of Ravenna, which highlights the parade of floats and laboratories on the masks at the House of Puppets or near the sea in Punta Marina Terme, but also the Museum of Nature St. Albert.
from 09/02/2010 to 07/03/2010
Program:
From 11th to 16th February Carnival House Puppet
At the Museum "The House of Puppets" will be set up laboratory spaces dedicated to the theme of Carnival, will also be orgnanizzate guided tours by appointment to the Collection Monticelli.
Opening hours: 10.00-12.00 and 15.00-18.00.
The workshops will be available Thursday, February 11th at 17:00 with masks Carnival
Tuesday, February 16th at 17.00 Hats and headgear edited by Sarah Bonomi and Martina Sturaro.
Sunday, February 14th Carnival of the boys.
Annually Ravenna hosts the parade of floats through the streets Roma and Santi Baldini which are filled with a crowd happy children and teenagers in masks, animation, folklore and musical groups.
Saturday, February 27th at 15.30
Museum Nature c / o Palazzone, via Rivaletto 25 St. Albert (Ra)
Workshop "The Sweets of Carnival"
Creative workshop of the kitchen to prepare sweets and delicious desserts for Carnival.
Share Participation: 4.50 €. For the initiative is advised to book.
Sunday, March 7th 14.30

Carnival in St. Albert - Streets and squares in the country
Meeting point: 14.30 at the headquarters of the District of St. Alberto.
Admission: Free
The content of the page is automatically translated.
Rate: 2.3 | Comments (0) | Write Comment