Tourism between art and culture
The Francigena


Goals and Christian pilgrimages
Refine
The places of pilgrimage are in remote areas suffering which eventually turned into places of worship, hope and rebirth. Millions of believers from the beginning of Christianity onwards, have always looked for places where they were or are, contains the tombs of saints and the martyrs and the areas that have been part of their lives in the hope of receiving comfort and expiation of their faults.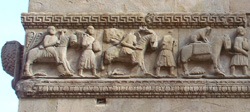 These places over time have become ever more important, transformed even as places of worship, the people who went there asking and seeking comfort, a confirmation of their faith or the hope of future favorable weather, taking away even icons or any object or This sign on the spot.
center; '>
Learn more information about "The Way Francigena"
Lands måltid
Refine

The castles of the land måltid
The historic route is the main reason that leads the tourist to explore the heart of the lands of Countess Matilda of Canossa and his family. Thanks to Emilia Romagna Law No. 44 of 1989, the strip of land extending into the province of Parma, Modena and Ferrara with the center in Reggio Emilia, has had considerable recognition, a territory that includes the plant the fortifications of the period of Canossa dynasty.
A further sign of appreciation we find him in the foundation of Matilde di Canossa SpA, in the Castle of Canossa precisely March 5, 1994, as a public-private company.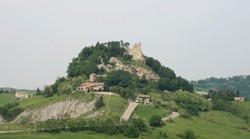 A large area, mostly hilly characterized by churches and historic towns and ancient castles, a territory that still has traces of medieval civilization that are found in food tradition and civilization today.
Visit the path of "land måltid"!
Verdi land
Refine
The Risorgimento and the melodrama are the two themes that unite the most important moments of the culture and history of the nineteenth century the region. E 'news note that the interest of the Greens in the political field has fueled his passion for music and patriotic music of Nabucco and I Lombardi, have generated numerous positive feedback from the popular audience but also numerous complaints. Thanks to the invaluable contribution of Verdi has established a close relationship between the public and the opera music to such an extent as to show the theaters in the history of the Risorgimento.
Villanova

Villa Verdi
The 1848 is the date of purchase of the villa, later enlarged and refurbished by the same Greens who lived there with his second wife, Giuseppina Strepponi. The villa is circumscribed by a luxurious romantic park, which was designed by the composer, while the interiors feature a variety of heirlooms of great value. Excluding days spent in Paris and the time spent in Genoa, Verdi lived here all their lives in this villa from
The content of the page is automatically translated.
Rate: 0.0 | Comments (0) | Write Comment